The daughter of the Prince of Monaco, Jazmin Grace Grimaldi, is embarking on an acting career and may work with director Aaron Sorkin.
At 29 years old, Jazmin Grace Grimaldi is the eldest daughter of Albert of Monaco. She was born of a romance between the prince and Tamara Jean Rotolo, during a summer on the French Riviera in the 90s. Since then, the young woman regularly visits her father on the Rock, although she lives in the United States. If she first tries her hand at singing, she then turns to humanitarian work. In 2018, for example, she participated in the Rallye Aïcha des Gazelles, a car race in the middle of the desert, benefiting various charities. But this year, it is in a completely different project that the half-sister of Jacques and Gabriella has decided to launch: a career in the film industry.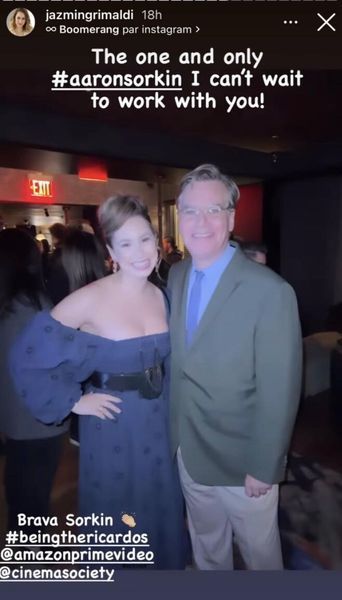 Last October, Jazmin Grace Grimaldi published a surprising picture on her Instagram account. She showed herself in the middle of a hair and makeup session on a London film set. "The life of an actress for me," she wrote. Indeed, the daughter of the prince will soon be starring in the film "The Chelsea Cowboy", a biopic dedicated to the English actor John Bindon. She will play Angie Bowie, the first wife of David Bowie who had an affair with the British actor. A feature film in which she will play Poppy Delevingne and Alex Pettyfer. But the young woman does not seem to stop there.
This November 17, she posted a snapshot with director Aaron Sorkin in his Instagram story. Awarded the Oscar for best screenplay for the film "The Social Network" in 2011, and then the Golden Globe for best screenplay for the feature film "Steve Jobs" in 2016, he is a director, writer and producer. Photographed next to him, the daughter of the Monegasque ruler writes, "I can't wait to work with you!" A sentence that suggests that the latter could soon play in one of his next films. Jazmin Grimaldi is definitely following in the footsteps of her grandmother Grace Kelly in Hollywood.